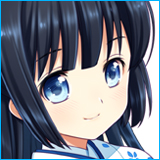 See this girl? Well she's my favorite character, Suisho Shizuku, a fictional girl illustrated by Kirino Kasumu. For more information, get here. Consider this as my avatar also.
Me? A wanderer, although I don't travel much.
Hobbies? Many, working with linux commands, translating, working on some encodes, and fansubbing.
Er, but, no, I do not watch anime much, sorry. I only enjoy watching thriller/horror ones.
Exceptions? Doraemon, Disney films,… and so on.
This blog is about something of mine that I want to share, mostly about gaming, programming and regex references, as well as some halfway objects.
Horoscope: Scorpio
Blood Type: O
Favorite Colors: Green and Black
Hobbies: Lurking, gaming, writing, drawing-painting
You can find me in several places:
You can email me at doko (at) senchou-fansub.com, please don't forget to put a meaningful subject title.
If you have something to ask me in public, please leave comments below.
Education
Engineer in Computer Science and Software Engineering, Hanoi University of Science and Technology, Hanoi, Vietnam April 2011 – September 2015
Technical Skills
Languages: Kotlin, C#, Java, JavaScript, Bash, Lua, Avisynth, JavaScript, JSON, HTML, XML, REST.
IDEs: Microsoft Visual Studio, Eclipse, Android Studio, Google Web Toolkit, IntelliJ IDEA, WebStorm.
Build & Version Control: Maven, SVN, Git, Redmine.
Continous Integration: Strider CD, Travis-CI.
Operating System Platforms: Windows, Mac, Linux (mostly Debian-based distributions).
Generic Software: Microsoft Office Suite, Adobe After Effects, Adobe Photoshop, Internet Browsers, x264.
Experiences
Designer & Developer & Administrator (self-administrated): solo project in free time.
(September 2012 – Present)
Google Drive file auto-sync (one-direction) written in C#.
Android native app as WordPress Client using RESTful API
Object recognition app and name translation using Clarifai API, written in React Native
Frontend Developer at VietBrains JSC.
(June 2015 – September 2015)
Creating well-structured and well-documented HTML templates from final design concept.
Implementing designs into live website templates, built on WordPress and Joomla.
Mobile developer at Microbenri and OpenWorkspace JSC.
(November 2015 – December 2016)
Developing social-based apps written on native Android.
Research and implement new development technologies, such as Retrofit 2, Glide, Gradle, Redmine.
Bulding online-interviewing apps with teamates. Using newest WebRTC and Ionic hybrid technology.